It's that month of the year again- the time for expressing warm feelings and wrapping your favorite people in a tight embrace of love and care. This year, Nature Creation has decided to make the month of love even lovelier for our dear customers with special offers and exclusive discounts!
Our best offer for the season is the Valentine's Full Relief Treatment Deal– A holistic healing package, combining the triple benefits of heat therapy, cold therapy and aromatherapy in a single deal. The range of products in the Full Relief Treatment Deal is intended to alleviate discomfort in all the major pain areas of the body- starting from the shoulder and neck, to the back and abdomen, and more.
Valentine's Full Relief Treatment Deal by Nature Creation
1 Shoulder & Neck Relief Wrap
1 Back & Abdomen Relief Pack
1 Lavender Eye Mask
1 Sinus Relief Mint Pillow
1 Heart-shaped Lavender Pack
This all-in-one package, comprising herbal heating packs and more, is loaded with therapeutic benefits. The diverse range of products not only ensures full-body coverage, but also provides overall stress relief and comfort besides targeted pain relief. The significant benefits of Nature Creation's Full Relief Treatment Deal can be discussed as follows.
Shoulder and Neck Relief Wrap
Smartly designed to fit seamlessly along the shoulder region, this natural heating pad is packed with the best of herbs and grains for quick pain relief via heat therapy. When heated, this microwavable wrap increases blood circulation along the neck, shoulder and upper back area, and relaxes the muscles in the region. This can help treat stiff necks, as well as reduce soreness and rigidity in the shoulder joints, which can significantly improve flexibility and range of motion in the upper body.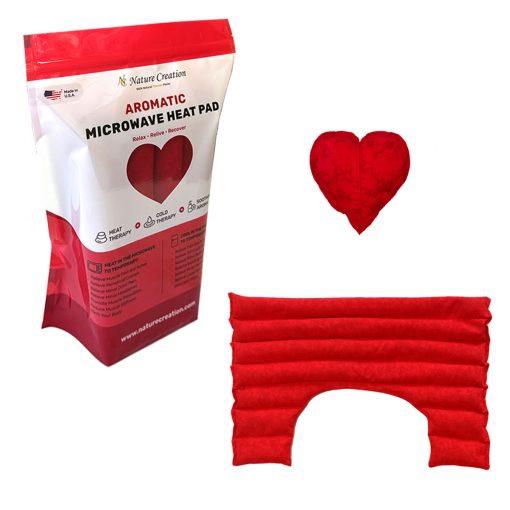 Back and Abdomen Relief Pack
This microwavable heating pad effectively uses heat therapy to alleviate acute pains along the back and abdominal region. This natural heating pad works wonders in reducing localized inflammation and pain along the affected area by improving blood circulation and reducing muscle tension. Among other herbal heating packs on the Nature Creation Store, the back and abdomen relief pack is widely used for easing menstrual cramps through heat therapy, as it can be conveniently wrapped around the abdominal region.
Lavender Eye Mask
This premium-quality eye mask, filled with imported lavender, is mainly intended for aromatherapy. When used as a cold pack, it soothes and rests weary eyes while the lavender aroma is believed to improve sleep quality and promote overall relaxation and comfort. Nature Creation's lavender eye mask is made from all-natural ingredients and is safe and easy to use.
Sinus Relief Mint Pillow
Filled with peppermint and other natural herbs, Nature Creation's sinus relief mint pillow effectively reduces sinus-induced pains and headaches. The mint fragrance clears up the nasal passages and helps release mucus and phlegm in cases of common cold or nasal congestion. The strong mint fragrance also provides aromatherapy- relieving overall stress and promoting relaxation of the mind and senses.
Heart-shaped Lavender Pack
The Valentine's Full Relief Treatment Deal comes with a lavender-filled herbal pack in the shape of a little heart. When used as a cold pack, the fragrance of lavender flowers initiates aromatherapy, helping the users in relieving stress and anxiety, and promoting improved sleep quality in the process.
Why should you purchase the Valentine's Full Relief Treatment Deal?
100% Natural Therapy- All products contained in the Full Relief Treatment Deal are packed with the best of herbs and grains that provide a natural remedy to pains and discomfort.
Targeted Pain Relief- The products in the Full Relief Treatment Deal are strategically put together to cover the major pain areas of the body, including the neck, shoulders and back. These herbal heating packs can be easily put on the affected area for quick and effective pain relief through heat therapy.
Aromatherapy- The natural heating pad in the Full Relief Treatment Deal is filled with fragrant herbs and grains that helps relieve stress and promote relaxation through effective aromatherapy. The lavender eye mask and sinus relief mint pillow in the package are especially intended for aromatherapy.
Portable and Easy to Use- Unlike traditional heating pads, the microwavable heating pads in Nature Creation's Full Relief Treatment Deal are easy to use, store and carry around.
Affordable- The Full Relief Treatment Deal is available at a discounted price as part of Nature Creation's Valentine's Day Offer.
Hurry and make the most of our Valentine's Day Deals. Grab the Full Relief Treatment Pack at only $79.99 from the Nature Creation website today!