With Valentine's Day right around the corner, it is safe to say that love is in the air…and special offers are on all shops and stores! In celebration of the month of love, Nature Creation has launched exclusive Valentine's Day Deals on our bestselling products.
You can now shop the best microwavable heating pad and other herbal heat packs at discounted prices only on the Nature Creation website. To know more about our Valentine's Day deals and offers, read on.
1. Valentine's Shoulder Wrap Deal
This package comprises a microwavable shoulder and neck wrap for heat and cold therapy, and a unique heart-shaped, lavender-filled pack for aromatherapy. The former is smartly designed to sit comfortably on the shoulders, and provide effective pain relief along the neck, shoulders and upper back area.
This herbal heating wrap can help reduce stiffness in the neck as well as muscle tensions and joint soreness in the shoulders. Overall, the Valentine's Shoulder Wrap deal is effective for alleviating pains and discomfort, and improving flexibility and range of motion in the upper body.
2. Valentine's Back and Abdomen Wrap Deal
The herbal heat packs in this deal (back wrap and heart-shaped lavender pack) provide the combined benefits of heat therapy, cold therapy and aromatherapy. The back and abdomen wrap is flexible and can be easily placed around the back and abdominal region.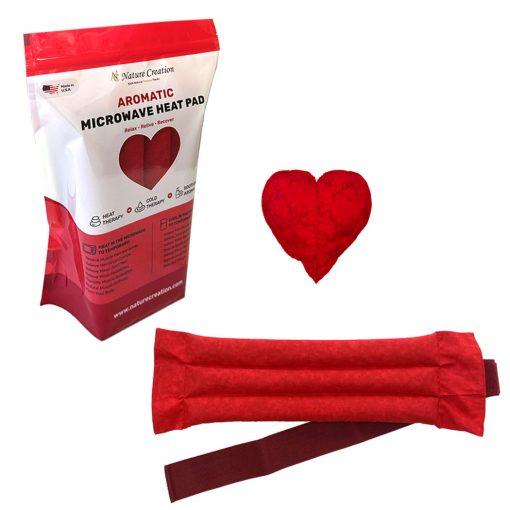 When heated in the microwave and used, this herbal heating pad improves blood circulation in the region and reduces inflammation and pains. The heat therapy also reduces muscle tension and joint stiffness in the back and abdominal areas.
3. Valentine's Knee Pack Deal
This deal comprises the best microwavable heating pad designed especially for people with conditions like arthritis or chronic knee pain. This herbal pack can be used for both heat therapy as well as cold therapy, and can provide temporary pain relief by reducing stiffness in the knee joint, and easing tensions in the surrounding muscles and tendons.
The all-natural ingredients in the knee pad also aid in providing pain relief with the help of aromatherapy. The heart-shaped lavender pack, which is also a part of the Valentine's knee pack deal, is also intended for relieving stress and discomfort through aromatherapy.
4. Valentine's Lumbar Pack Deal
The Lumbar Pack Deal is a combination of the best microwavable heating pad by Nature Creation, and a soothing lavender-filled herbal pack. The flexible lumbar heating pad can be conveniently placed on any part of the body (shoulder, back, elbow, knee, etc.) and can be used as either a heat pack or cold pack for localized pain relief.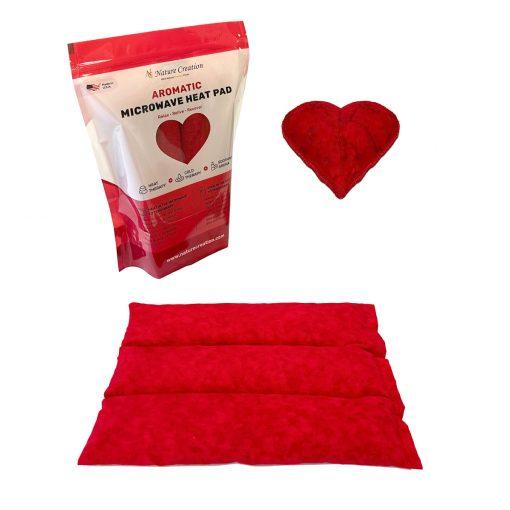 The lumbar pack is designed as a natural therapeutic relief to any pains arising from stiff joints, muscle spasms, as well as inflammation. It is filled with the best of herbs and grains that are known to provide overall relief from discomfort through aromatherapy.
5. Valentine's Full Relief Treatment Deal
Last but definitely not the least, we have the Valentine's Full Relief Treatment Deal– a holistic full-body therapy pack that is abounding with the healing benefits of heat therapy, cold therapy and aromatherapy.
This all-in-one deal is designed to cover the major pain points in the body. As such, the Valentine's Full Relief Treatment Deal comprises a Shoulder & Neck Relief Wrap, Back & Abdomen Relief Pack, a Lavender Eye Mask, a Sinus Relief Mint Pillow and one heart-shaped Lavender Pack.
The first two herbal heat packs in the Full Relief Treatment deal are effective in providing natural relief for localized pains and discomforts. The lavender eye mask and herbal pack are both meant to be used as cold packs to feel the full effect of aromatherapy.
These can be effectively employed to reduce anxiety and stress, and are known for providing a natural remedy for insomnia by promoting improved sleep quality through aromatherapy. The mint pillow also contains the benefit of aromatherapy, and is beneficial in reducing minor sinus-induced headaches and nasal congestion.
What makes us special?
Nature Creation deals in a diverse range of premium-quality therapy products for quick and easy pain relief. All our products are filled with 100% natural ingredients, including fresh grains and fragrant herbs, that aid and assist in the relief and relaxation process through aromatherapy. Our best microwavable heating pad as well as other herbal heat packs are proudly made in the USA and are fully reusable.
Valentine's Day Deals by Nature Creation
The bestselling products on the Nature Creation website are up for sale at amazing discounts. So what are you waiting for? Shop now and make the most of our special Valentine's Day Deals!