Cool in the freezer to temporarily: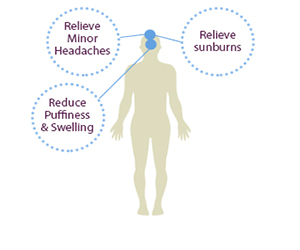 Reduce puffiness around the eyes
Help lessen insomnia
Relieve minor headaches
Relieve minor burns
Relieve stress & tension
Promote overall relaxation
Specifications:
Product size: Approximately 4" W x 9" L x 0.5" H
Applications: Cold
Material/ Fabric: 100% Cotton
Filling Ingredients: Rice & Lavender Flowers
Proudly made in the USA
Warranty: 12-month manufacturer warranty + 6-month exclusive extended warranty
A great natural herbal relaxer that reduces eye strain and tension and helps bring refreshing sleep.
The Stress Relieving eye pillow is filled with a blend of flaxseed and lavender that produces a soothing aroma. It is designed to conform to the contours of the area around the eyes for optimal therapeutic benefits.  Use it to – Cool & refresh your eyes, Relieve stress headaches, and Reduce insomnia.
The Eye Pillow, in its unique package, is the perfect thing to tuck into a suitcase for vacations or business trips. And it makes a great gift!