All-natural Lavender Eye Mask smartly designed to provide relief & relaxation for insomnia, headaches, stress, and tension.
The Lavender Eye Mask effectively and naturally relieves Puffy Eyes, Minor Headaches, Insomnia, Bruises, and more. It fits comfortably around the eyes and forehead area while an elastic strap keeps it in place. The product is filled with a 100% natural blend of lavender flowers and flaxseed – chill in the freezer for Cold Therapy.
Lavender flower is known to have a calming effect and can often replace modern medicine for sleep issues such as insomnia. The calming scent makes an excellent tonic for nerves and anxiety issues and can also help relieve minor headaches, nervous tension, and emotional stress. The lavender flower's refreshing aroma and uplifting qualities rejuvenate your skin and help relieve and refresh your tired, puffy eyes and the dark circles underneath the eyes. When placed next to your pillow, the lavender flowers give off a gentle fragrance that, according to medical studies, acts as a mild and soothing Sedative for promoting sleep. This remarkable eye mask also serves as an aromatherapy pad to relieve stress and tension. We are eager for you to use and enjoy this product!
Cool in the freezer to temporarily: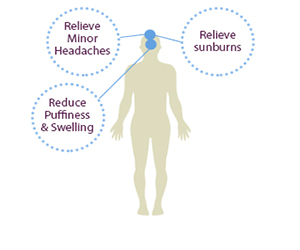 Helps lessen insomnia
Relieve stress & tension
Reduce puffiness around the eyes
Relieve minor headaches
Relieve minor burns
Promote relaxation
Specifications:
Product size: Approximately 4" W x 7.5" L x 0.75" H
Applications: Cold
Material/ Fabric: 100% Cotton
Filling Ingredients: Rice & Lavender Flowers
Proudly made in the USA
Warranty: 12-month manufacturer warranty